Sterenn Of Love - ASTRIX / XEROX / MINDCORE / POF / MUTe / MISH / Shag vs Nimut
Near Paris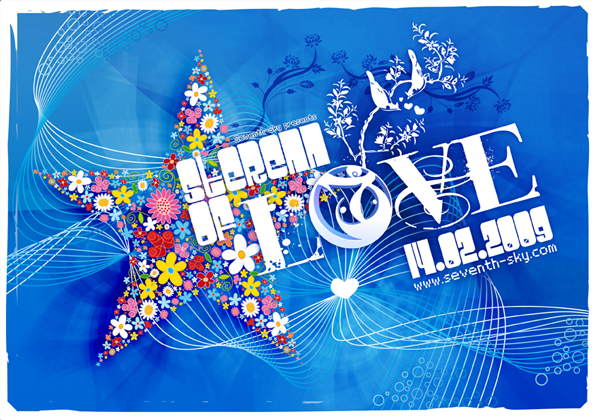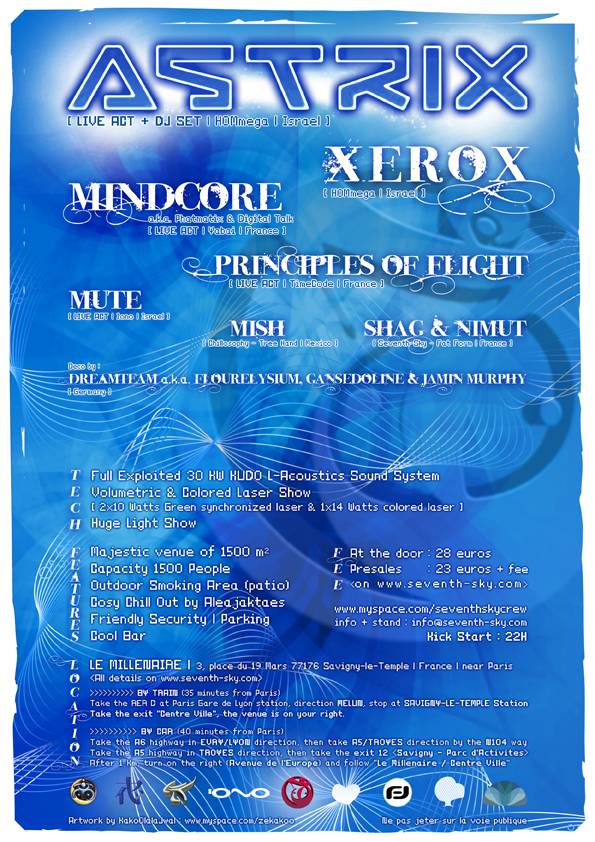 LineUp:
ASTRIX ( Hommega, Israël ) - Live Act+ Dj set
Do we still present Astrix?! The ambassador of Trance and one of this music pioneer! The israelian FULL ON master is Back in France! For our pleasure, Astrix will present his new album "Red means distortion" comming soon in a amazing live act, and will play a 100 % Hommega style Dj set! BE READY!!
XEROX ( Hommega, Israël ) - Dj set
We opted for a Dj set from Xerox! Artist of the Hommega team, he also founded his own label "Noya rec" with a interesting musical orientation: Sub6,Techtonic (former member of X-noise) and PTX. PTX album was also released on Noya rec. heavy full on and massive technic "au rendez vous" !
MINDCORE a.k.a Phatmatix & Digital Talk ( Yabai, France ) - Live Act
Mindcore is the new project from Phatmatix and Digital Talk! Knowing their last releases, this duo garantees a massive explosion of the dancefloor! they will present in exclusivity for Seventh-Sky their future album which will be released on Yabai records.
PRINCIPLES OF FLIGHT [POF] ( TimeCode, France ) - Live Act
How to define POF? Maybe a combo between psychedelic, symphonic , harmonic and how perfectly mix some acoustic with psychedelic rythmes! the POF will show us again how talented they are! Waiting for their next album on Timecode rec, and knowing the quality of this label releases, we have no doubt for the success of this new opus!
MUTE ( Iono, Israël ) - Live Act
In a few words, MUTe is THE progressive project at this time! Simply a perfect mix between inspiring atmospheres and a body feeling rythmic! Big kick, massive basslines, the Israelian duo won't let the dancefloor breath a minute! Waiting for their album in 2009, Mute is a Seventh-Sky infatuation.
MISH ( Chillosophy / Tree Hand, Mexico ) - Dj set
People who were at the arcadia festival last summer didn't forget the amazing Dj set performance from Dj Mish! About his set we can say that a high sensibility with a perfect mix technic are the ingredients of the unanimous success of this dj! He comes back from Mexico for us!
SHAG & NIMUT ( Seventh-Sky/Fat Form, France ) - Dj set
Shag & Nimut are representative from the new progressive generation! From minimal to progressive trance,they love FAT music! With actuals sounds, groovy fresh beats and precision on the menu, they 'll launch this wonderfull night!
More Info:
Deco
DREAM TEAM a.k.a FLOURELYSIUM,GANSEDOLINE &JAMIN MURPHY (Germany)
Technicals
- Full exploited 30 KW Kudo L'acoustics Sound - System
- Volumetric & Colored Laser Show (2X10 Watts Green synchronized laser & 1X14 Watts colored laser)
- Huge Light Show
For laser lovers we planned a huge laser show. we garantee a powerfull, massive and unique show as seen in the worldwide greatest festivals!
we choosed 2 green synchronized lasers of 10 Watts each, which allows volumetric forms of all types
and a 14 Watts colored laser to complete this great show!
Features
- Majestic venue of 1500 m2
- Capacity 1500 Happy People
- Outdoor Smoking Area (patio)
- Cosy Chill Out by Aleajaktaes
- Friendly Security
- Cool Bar
Location
LE MILLENAIRE-3,place du 19 mars 77176 Savigny-le-temple-France-Near Paris (All details on www.seventh-sky.com)
"LE MILLENAIRE" is a majestic place in the east of Paris! Built in 2001, this party place proposes the best features you can find in Paris for acoustic, technic and acess!
*BY TRAIN(35 min from center of Paris)
Take the RER D at Paris Gare de Lyon station, direction MELUN,stop at SAVIGNY-LE-TEMPLE Station, Take the exit "Centre Ville",the venue is on your right.
*BY CAR(40 min from center of Paris)
Take the A6 highway in EVRY/LYON direction,then take A5/TROYES direction by the N104 way,Take the A5 highway in TROYES direction,then take the EXIT 12(SAVIGNY-Parc d'Activités);After 1Km,turn on the right(Avenue de l'Europe) and follow "LE MILLENAIRE/Centre Ville"
Fee
At the door:28 Euros
Presales:23 Euros+fee on www.seventh-sky.com & www.myspace.com/seventhskycrew
< All infos / details on : http://www.seventh-sky.com >
< Ask your questions : info@seventh-sky.com >
! KICK START at 22H !